| | |
| --- | --- |
| Overall Rating | |
| Value | |
| Support | |
| Features | |
26Apr
123Together.com
Posted by Exchange Hosting Reviews as 123Together, Reviews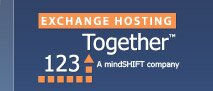 123Together.com is a leading provider of Microsoft Exchange Server hosting for customers that need consider their e-mail to be mission critical for their business. Public and private companies from around the world have chosen 123Together.com for their  e-mail because of our their leading enterprise-level infrastructure and single-minded approach to keep Exchange servers running with 100% uptime.

123Together.com helps make their clients successful because of their expertise and focus on Microsoft Exchange Server.  123Together.com is not involved in other businesses such as web hosting or IT consulting services. They focus solely on Microsoft Exchange Server.  Microsoft Exchange Server is a complicated system that needs lots of attention to deliver on their 100% SLA.  123Together.com has used their expertise and focus to build their own highly scalable and robust provisioning system with great features such as auditing and roll-backs.  In addition they offer all customers live 24/7 U.S. based technical support.
The 123Together.com hosted exchange data center is co-located with Internap, a Tier-4 data center facility offering redundancy via four major backbones, a double power grid, diesel generator back-up and security monitoring.  Such an enterprise-level infrastructure is not affordable in most corporate environments.  Coupled with around-the-clock server monitoring for performance and security, 123Together.com ensures a 99.9% uptime guarantee for shared accounts, and a 100% uptime guarantee for dedicated servers. Protecting customers from the most critical security problem, 123Together.com utilizes multiple antivirus engines, which are updated hourly to provide the latest protection. Advanced spam filters are used at both the server and client level to keep e-mail free of clutter.
Exchange Hosting Features:
Live 24×7 U.S.-based phone and email support
Money Back Uptime Guarantee – 99.9% uptime SLA on shared Exchange Servers and 100% uptime SLA on dedicated Exchange Servers.
30 day no obligation trial
Daily Backups
24×7 Server Monitoring & Maintenance –
Web-based Control Panel - add/delete users, create contacts, setup forwarding, etc. , via an easy-to-use web-based control panel from any internet-enabled computer.
URL: http://www.123together.com/
Email:
Phone: (800) 9-MS-EXCH
Price: starting at $9.99/user/month
Server Status: http://status.123together.com