| | |
| --- | --- |
| Overall Rating | |
| Value | |
| Support | |
| Features | |
23Jun
Train Signal releases line of Exchange Server 2010 training courses
Posted by ryan as Tools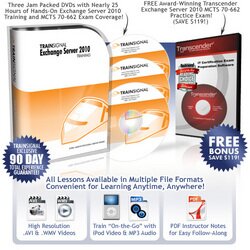 Train Signal, best known for their popular lines of training courses, has released a line of courses catering to users of Exchange Server 2010. The company has this to say:
"The demand for certified IT Pros with Exchange 2010 experience is rising as more and more companies are moving to the new messaging environment" says Marketing Director, Iman Jalali, "and our Exchange 2010 training was designed with this fact in mind."
The coursework will be taught by J. Peter Bruzzese, who is an author with several related books to his credit. This this 10 year Exchange veteran also holds MCSE, MCT, MCSA, MCITP: Messaging, CNA, CCNA, CIW Master, and CIW Certified Instructor certifications. If you are feeling lost in all things Exchange, it may be time to go to a professional.